Assoc. Prof. Dr. Zeynep GÜNSÜR YÜCEİL
Head of Department
Theatre Department, which was founded in 2006, is the youngest department of Faculty of Arts and Design in Kadir Has University. The department offers a four-year undergraduate program, which provides the graduates with Bachelor of Arts degree.
The program aims to help students to develop their knowledge and creativity, as well as their skills, that they need in their future profession as theatre artists. The curriculum is designed to provide wide range of possibilities to specialize for the professional life. It serves an optimal combination of theory and practice. Students starts training in the fundamentals of theatre and then while focusing mostly on acting, they can also develop their interests on a particular area such as dramatic writing, directing, theatre management.
The academic staff of the department consists of prominent actors, directors and theatre managers of well-known theatre companies or as widely known independent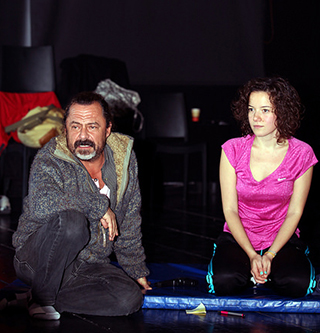 artists. Our lecturers have international experience and they have vivacious theoretical and practical knowledge of theatre. Besides their career as artists, they also have extended years of experience as lecturers.
In order to give a contemporaneous education, the department gives a special importance to internationality therefore enable its students to acquire international experience through Erasmus and other exchange programs, as well as international academic events and workshops.
According to their interests and talents, our graduates can work as actors/actresses, directors, playwrights, theatre managers, theatre instructors along with many other theatre related professions.
Contact Info:
Kadir Has Üniversitesi 
Faculty of Art and Desing
Theatre Department
Kadir Has Caddesi 34083 Cibali-İstanbul 
Phone: 0212.533 57 65 
Fax: 0212.533 58 53 
Assoc. Prof. Dr. Zeynep GÜNSÜR YÜCEİL
Phone : 0212.533 65 32 x 1326
E-Mail: zeynep.gunsur@khas.edu.tr